by Marie Quinney and Anastasia Papangelou
Is there such a thing as a silent conversation?
How can we support (and be supported by) our peers in the cumbersome writing process?
How can one, as a facilitator, deal with demotivated participants or conflicts during a workshop?
Is there a good energiser that doesn't exclude less mobile people?
These are few of the questions we dealt with during our 2nd SUSPLACE training in Wageningen, from the 17th to 26th October. Intense and rewarding, this training included 3 modules: writing groups, SUSPLACE seminar and facilitation training.
The writing groups, facilitated by Wageningen's Peter Griffith, consisted of groups of 4 in which we discussed extracts from our research designs. The goal was to make our texts more coherent and comprehensible, strengthen our arguments and polish our writing style, by means of incorporating feedback from our peers. Writing groups are very popular in the United States and have proven to help researchers produce high quality theses and publications. The groups have been a huge success for SUSPLACE and we are all willing to keep them going throughout the programme.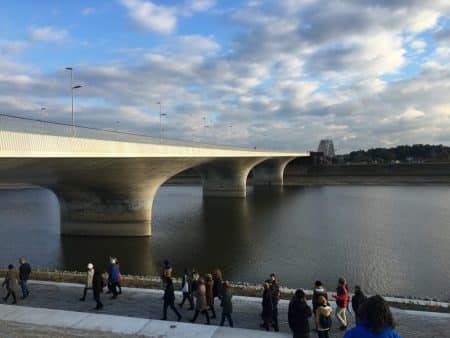 The SUSPLACE seminar took place over 2 days. On the first day, all project parties (academic and non-academic partners and ESRs) met for the first time in the Honig Complex in Nijmegen and discussed our forthcoming secondments. The Honig Complex was the ideal setting to stimulate our thoughts on sustainable place-shaping. It is a reclaimed ex-industrial site that has been turned into a creative hotspot that incorporates businesses, shops and cultural activities, recycles materials and brings people together.To finish the day, we took a guided walk along the recently renovated Waal riverbank. The local authorities decided to widen the river itself as a flood management technique and to make the river appealing to the locals by building a beautiful new bridge and allowing wildlife to thrive in the floodplain. It certainly was breath-taking and a welcome reconnection with nature after a busy couple of days working indoors. On the second day, we (the ESRs) presented our draft research designs in front of our colleagues and supervisors and received valuable feedback to advance us in this planning stage.
Our time in Wageningen ended with training on the facilitation of place-based development by Royal Haskoning DHV (SUSPLACE non-academic partner). Three committed facilitators guided us through a 3-day journey towards togetherness and what a journey it was! Along the way, we picked up tools and tricks for effective facilitation, we practised interventions and opening a workshop, and we imagined how we can each contribute to a common vision. The outcome? A strengthened SUSPLACE team with a solid feeling of belonging and quite a few concrete ideas for boosting togetherness, ready to be put into action.  Many of us are already planning workshops and focus groups and this training helped us understand simple ways to plan better, make them more inclusive and be flexible in our approach. One of the activities that we all greatly appreciated was when we all wrote down key words about a topic and laid them on the floor. We then were told to arrange and rearrange them into similar clusters. What ensued was a 'silent conversation' in which negotiations and debates were visible. We also listened to some great music throughout many energisers we designed ourselves. One of the challenges here was to ensure that physical energisers were able to include one of our members who had recently broken her foot, which made us all aware of taking into account those with physical disabilities throughout our work. This workshop also inspired us to promote togetherness within SUSPLACE by using modern technology on the application Slack to support one another with different issues we might run into. The application is a private platform that allows you to create forums in which to share ideas and files, and will greatly help us to overcome the fact that we are scattered across Europe.
The next training will take place in Leuven in March 2017 and the SFERE group is up  for the challenge of making it as successful as this one! In the meantime, we (the SUSPLACE ESRs) will be busy finishing our research designs, making the first steps in our empirical work, visiting conferences and seminars, supporting each other and blogging about all of these.
Follow SUSPLACE on twitter (@SUSPLACE_ITN) and like it on Facebook to keep track of what we are up to.