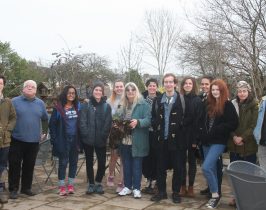 On an unseasonably warm February afternoon – warm enough to sit outside with no coat on and with a chorus of birds overhead – seven university students and ten community gardeners gathered in a tranquil community garden on the outskirts of Cardiff, Wales. They met for the 2nd Tyfu i Ddsygu (or Growing to Learn) workshop, with the aim to collectively developing a series of hands-on learning projects.
After a few iterations, the Tyfu i Ddysgu project, born out of the 'Connected Learning Spaces' research agenda, has recruited eleven university students to design and undertake practical projects with five community gardens in Cardiff. The purpose is to explore a participatory approach to Service-Learning in order to engage students around issues of sustainability and build sustainability competencies.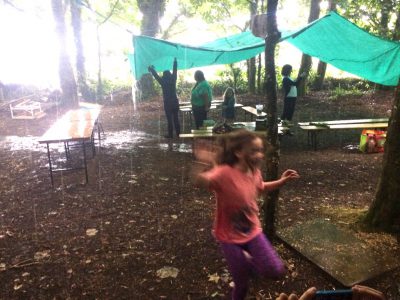 A summer camp where families pretend to be climate refugees? An arts-based experiential learning experiment? A delightful and intellectually stimulating weekend in the highlands of Cornwall, full of laughter and joy?
In July 2018, seven families took part in an experimental 4-day 'retreat' in Cornwall, UK. The aim of this creative residency was to imagine and design how to live when sea levels rise. SUSPLACE fellow Kelli Rose Pearson and SUSPLACE project coordinator Anke de Vrieze attended RE.TREAT Cornwall as participant observers. The story starts with a full lunar eclipse, a neolithic cairn, and an unexpected storm. It ends with the Boatbarrow – an amphibious mobile art gallery.