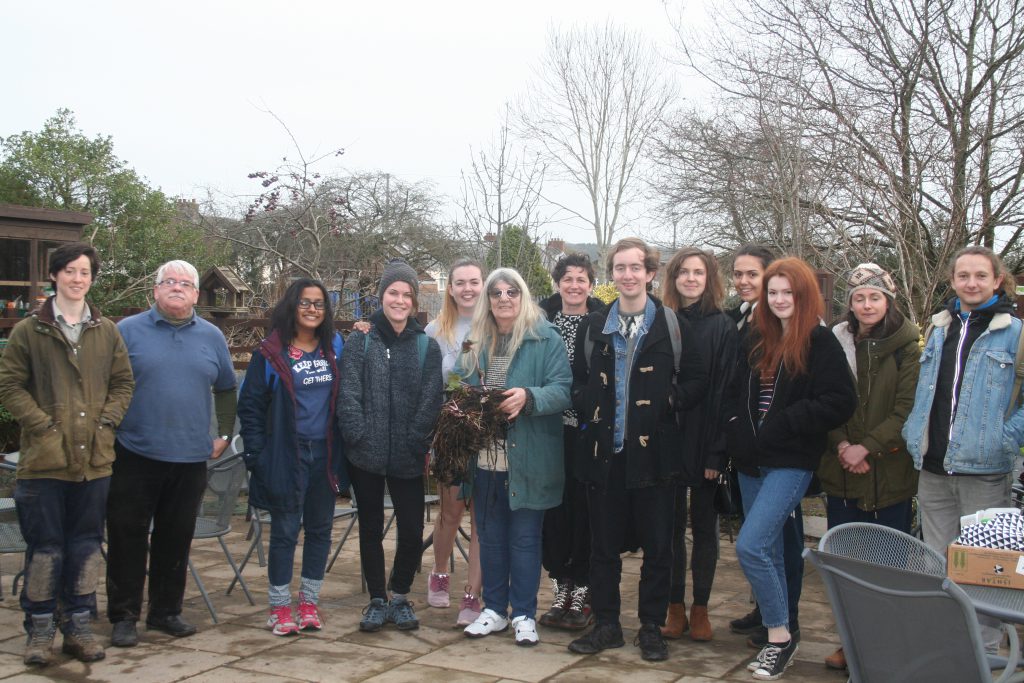 On an unseasonably warm February afternoon – warm enough to sit outside with no coat on and with a chorus of birds overhead – seven university students and ten community gardeners gathered in a tranquil community garden on the outskirts of Cardiff, Wales. They met for the 2nd Tyfu i Ddsygu (or Growing to Learn) workshop, with the aim to collectively developing a series of hands-on learning projects.
It has been just over six months since I became part of the SUSPLACE team and now that I have carried out two workshops for my research, I thought it a good time to give an update of how things are going and what I've been up to. After a few iterations, the Tyfu i Ddysgu project, born out of the 'Connected Learning Spaces' research agenda, has recruited eleven university students to design and undertake practical projects with five community gardens in Cardiff. The purpose is to explore a participatory approach to Service-Learning in order to engage students around issues of sustainability and build sustainability competencies.
Service Learning
So, what is Service Learning? It is a place-based educational approach which combines community service with structured learning. I really like the notion of service here as it defined an act between equals. Whereas "fixing and helping may often be the work of the ego", service is "the work of the soul" and involves a different inner experience (Remen, 1997). As an experiential methodology which focuses on interactions with places and people as well as contextualisation of these experiences within broader issues, it has a long history within social justice education and citizenship education.  Here I am investigating its use for sustainability education and seeing how it functions as a methodology outside of a formal university course. Another characteristic of this project is a higher level of student and community involvement in designing the 'curriculum' – which in this case means the learning projects which students are carrying out in pairs or individually.
Community Learning Ambassadors
The challenge of not operating within a formal university course with a set timetable and accreditation – i.e. all of the students are volunteers – is that everything must be organised with a lot of flexibility and it is sometimes difficult to keep hold of students when their studies become demanding. This is what I experienced following the January university exam period. For some, it was a fresh new year, a time for launching into new projects. So, I had six new volunteers – or Community Learning Ambassadors as they are called – joining the project. Great! However, for others it was perhaps a time for reevaluating priorities and I also lost three volunteers, including one who had only just enrolled!
The current eleven Community Learning Ambassadors span from first year students to masters students and from Biological Sciences and Physics to Applied Linguistics and Journalism. They have designed really varied projects involving artists' residencies, biodiversity enhancement, educational promotion, digital platforms and more. These have all been based on their interactions with the gardens and responding to the gardens' 'visions'. This was the focus on the first workshop, held in November 2018. After several icebreakers and dynamising activities, the Gardeners did a visioning exercise and, with the aid of student inquiry, mapped out their key goals as well as some of the challenges they face. Students were also asked to reflect on their perspectives on learning and education and were asked questions by the community gardens about how they think that they could contribute to the gardens.
Developing project plans
Whilst the first workshop was definitely more of a space for making connections and building understanding between different perspectives, the second workshop was a lot more focused with the aim of getting practical and feasible project plans by the end. The students had already met with me in groups or individually to discuss their projects and had submitted proposals online. The workshop was an opportunity for them to really test these ideas out with the community gardeners and collectively consider the goals, practical aspects and time-frames. We began with a delicious bring and share lunch out in the garden and a few icebreakers. Then we went inside for pair and whole group discussion on different definitions of sustainability and sustainable development which brought up some very critical perspectives and also a fair amount of confusion! In groups, the students and gardeners planned out the projects to be undertaken from February to the start of April and then finished the workshop with a quiet few minutes on reflective journal entries and a walk in the garden.
It had been a bumpy start to the year – I spent a few weeks unsure of which students remained and who could attend the workshop until the very last minute – but now the workshop is completed and I have seen all the enthusiasm and ideas it has generated I am just excited to see how these vastly different projects develop over the next two months!
Oh, and before I forget, I have set up a project blog [http://blogs.cardiff.ac.uk/growing-to-learn/] for the different education projects and garden details to be shared and in some months the findings of the research itself.
Remen, R. (1997). In the Service of Life. Noetic Sciences Review. Retrieved from https://palousemindfulness.com/docs/remen-service.pdf