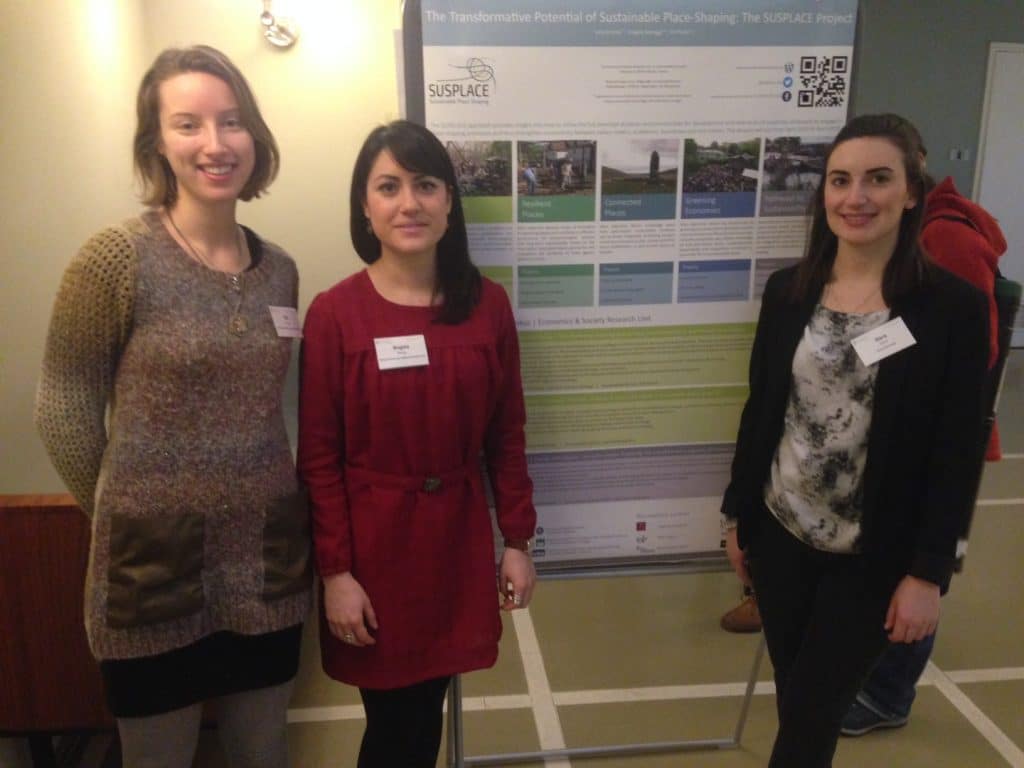 By Angela Moriggi, Sara Grenni, Siri Pisters
The Doctoral Programme in Interdisciplinary Environmental Sciences (DENVI) at the University of Helsinki hosted its 2nd Annual Meeting on February 6-7, 2017. Sara, Angela and Siri – the group of ESRs based in Helsinki at the Natural Resources Institute Finland (Luke) – participated as "SUSPLACE ambassadors", with a poster displaying the contents and aims of the project, titled "The transformative potential of sustainable place-shaping: the SUSPLACE project".
Two of us also gave a presentation on our own respective projects: Angela introduced her theoretical framework with a talk titled "Green care practices: transforming people, transforming places? A theoretical proposition", whereas Siri discussed her research project with a presentation on "Transformative learning and societal transformation in and through ecovillages – Exploring connection, compassion and creativity in Kurjen Tila (Finland), Väinölä (Finland) and Tamera (Portugal)".
The meeting turned out to be a precious occasion to disseminate the SUSPLACE framework, and our work in particular, to a multi-disciplinary audience not familiar with ideas of place-shaping and transformational change. This is always a fruitful exercise, especially at the current moment, when our full research designs have been submitted and accepted, and our empirical work is ready to start! Indeed, the many months of desk work and preliminary field visits have been crucial to elaborate a full proposal, comprising a sound theoretical and methodological foundation and a feasible work plan for the coming months. Yet, an important step is also to gain confidence about our proposed plans, and make them really "ours". And this is best done when attempting to introduce them to scientific audiences external to our supervisors and colleagues: a challenging exercise but also an extremely inspiring occasion to convey our passion for what we are doing and we plan to do!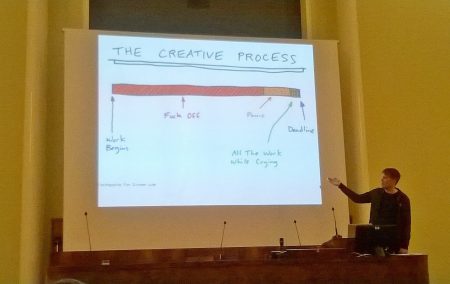 DENVI 2nd annual meeting was also a good networking opportunity to get in touch with other early stage researchers, mainly working at the University of Helsinki. As the meeting was specifically tailored for PhD students, a special workshop was delivered by Kimmo Svinhufvud on "The elements of a smooth PhD process". Dr. Svinhufvud particularly stressed the importance of alternating so-called "focus days, buffer days and free days" – to make sure that enough time is dedicated to the writing process (focus days), as well as planning activities/lectures/meetings (buffer days) but also no-work-no-study-days (free days), without getting lost in the research loop. He also highlighted the importance of 'rituals': methodically organizing the time in dedicated fixed weekly slots; according to various studies, when we know that for example every Friday is to be committed to drafting papers, we are more likely to avoid the so-called 'conscious effort', a tiring exercise of designing activities every day from scratch again.
Internationally renowned keynote speakers, Sara Tjossem (Columbia University, USA) and Sonja Salovius-Laurén (Åbo Akademi University, Turku, Finland) were also present, talking respectively about "Scientific and political networks in an age of climate change" and "  Science for everyone: The VELMU program and its advantages for society".
We look forward to new opportunities of this kind in the future, and we'll make sure to internalize some of the best practices learnt at the DENVI 2nd annual meeting. Many thanks to Karen Sims-Huopaniemi and the organizing team for welcoming us to the meeting!