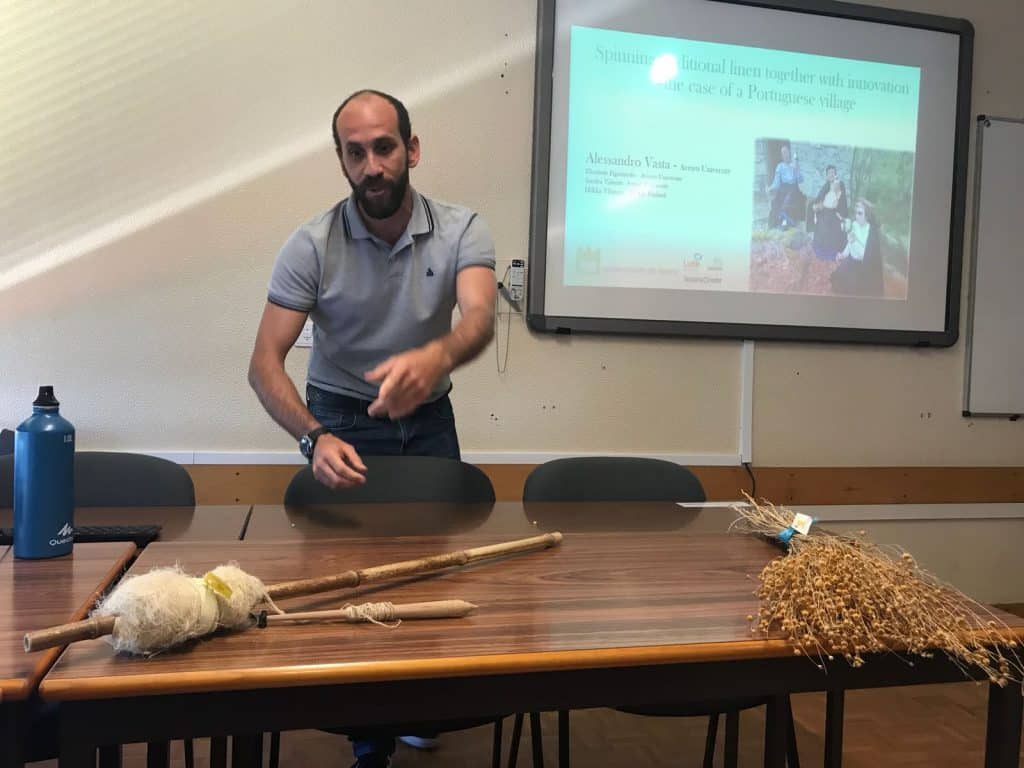 By Catia Rebelo, Alessandro Vasta and Siri Pisters
How do citizens' initiatives shape sustainable places? This question guided a seminar lead by Elisabete Figueiredo and Sandra Valente at University of Aveiro last May. Some ESRs, namely Alessandro Vasta, Cátia Rebelo, Marta Romero and Siri Pisters had the opportunity to share their work with a group of undergraduate and graduate students.
The structure of the seminar was quite interesting because it allowed us to first present the SUSPLACE project in general and, then, in a more place-based approach. That is, all the ESRs presented their Portuguese case studies, two of them in a region quite close to the University. This helped the students to grasp the research process in a quicker and keener way, because many knew the areas studied and related to them. The short presentations – each of us had only eight minutes to present our project – contributed to make it focused on how our projects are trying to shape places. Examples of how we are working with communities to shape these places where presented via different resources: theory and ideas but also with local artifacts (e.g. linen) or even a documentary co-produced with a group of residents from Carvalhal de Vermilhas. These innovative approaches, were very well accepted by the students that where very keen to learn more about our methodologies and how we operationalized it.
In addition, this session was equally important to ESRs as allowed us once again to play our roles as Marie Curie Ambassadors, and inspire these young students, who might one day be the next generation of Marie Curie Researchers.
How we see our role as Marie Skłodowska-Curie Ambassadors
Cátia
Ambassadorship is a topic very close to my heart, actually, my research project is focused on Place Ambassadors. Basically, I believe that local people that love their place can be the best ambassador any place may have. Whoever knows me knows that I also preach it, as I am always proudly talking about my hometown and why you should visit! I transfer this role of ambassador for my academic job as well.
I think my role as a Marie-Curie Ambassador is very important especially because, in my experience, there are still a lot of people, even PhD students, who have never heard about the Marie-Curie ITN networks. It is with great pleasure that I share with them what these networks are about and how they can apply! Actually, one of my friends got a Marie Curie ITN scholarship at R.U.In project after I told her about it. I felt very happy for her!
The last time that I officially played my Marie Curie role was precisely in the University of Aveiro in the above-mentioned seminar. As I said, it is always with a smile that I play my role as an Ambassador, but this time was even more special because it was the first time that I presented my project to undergraduate students and because I was home!
Indeed, before joining SUSPLACE and move to Cardiff University in the United Kingdom, I was working as a research assistant at University of Aveiro. So, it felt good being back and be able to discuss my project in a familiar place. I also felt good being considered as an example for the ones who aim to work in academia, in the sense that "if I made it you can also do it". As a Portuguese working abroad, I believe it is important for Portuguese students' confidence to have flesh and blood examples of researchers and not just read in the news how Portuguese scientists do well outside of the country. So, I am incredibly grateful for this experience!
Alessandro
I am currently based in Aveiro, and have already presented my project, both in the rural area where I'm working and in various academic conferences\school. As a reflection on these experiences, I have been always trying to improve my role as a Marie Curie Ambassador in trying to share with different audiences what Marie Curie ITNs are about and our SUSPLACE project.
This is not always easy, as in the case of the rural village where I work in analyzing the process of innovation of traditional linen, the audience does not have any prior knowledge related to ITNs or SUSPLACE. What strikes most of the people is the international mobility of ITNs, and the fact that I am an Italian doing research in Portugal. Most comments I get are about their curiosity on the structure of the project and most people are quite happy and proud to see that their traditions and place are being represented abroad. The people in the village of my case study are the real ambassadors of their place, sometimes I feel I'm an ambassador of the ambassadors! 😀
The experience in the aforementioned seminar at the University of Aveiro was different. It was my first time presenting within my own department and interacting with undergraduate students. It was a very nice experience to try and inspire others and give them practical examples for conducting qualitative participatory action research. Also, to allow for students to know about the Marie Curie ITN and spur interest towards getting involved in an international experience. The role of ambassador is quite important, and I find important to shape the way you present your project and presentations in various contexts. For me presenting in a rural village, in a summer school, in a conference or to undergraduate students were all experiences that made me improve in my communication skills.
Siri
Being a Marie Curie ambassador probably means different things to different people. For me I try to reach out to different kinds of people to share what I consider a key insight from my and also our research and to see if it resonates with others as well. A key insight from my research, and I think from more of us within SUSPLACE, is that the states of our 'inner' health and wellbeing is inseparable from the state of affairs in the world. And that thus also the solution to both lies in the interaction between.
Sharing insights from my research is for me a very needed and valuable practice as it first of all forces me to find words to explain it in in a logical manner. Explaining it to others always points out aspects that are not yet clear to myself and it serves as a way to validate my interpretations of things, as it often is quite clear what aspects resonate immediately with an audience and which parts need further exploration from my side.
The questions I received in the discussion round of this particular event mainly considered my approach to research and the methodology used. Experimenting with different kinds of approaches to research (e.g. transpersonal or intuitive) and alternative methods (action research, participatory, creative) always brings up questions about the scientific rigor of the approach and the quality of the methods.