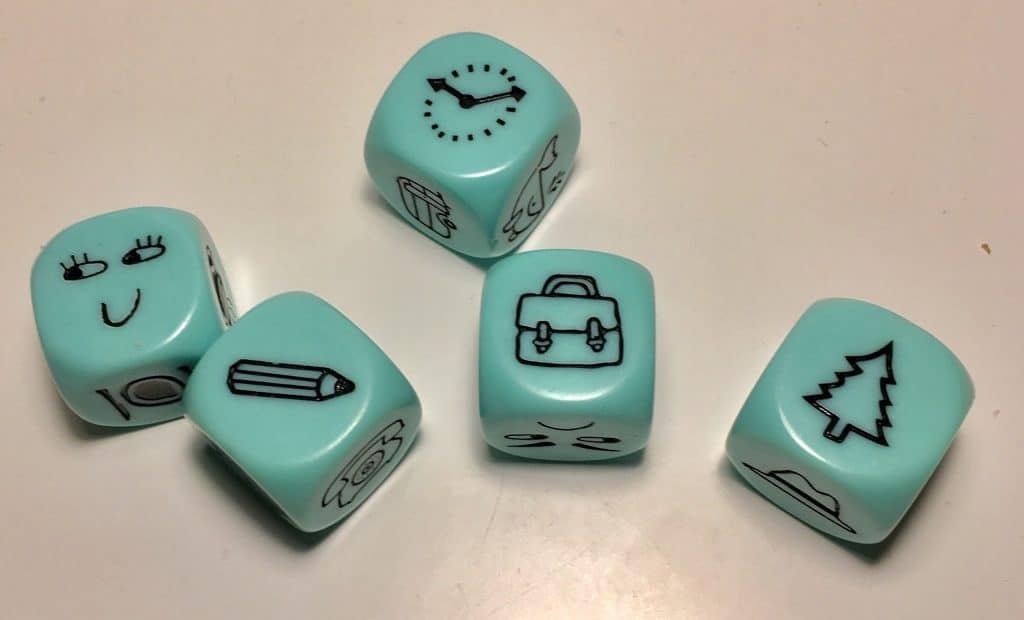 by Catia Rebelo
Sustainable tourism
TEFI – Tourism Education Futures Initiative – represents an innovative and inclusive tourism network of tourism scholars and practitioners. Indeed, TEFI is based on five pillars: stewardship, mutuality, ethics, professionalism and knowledge. They see tourism as social phenomena and want to move beyond business as usual, exploitative and extractive industrial approaches to tourism. That is, they seek to create a space of knowledge co-creation towards an alternative type of tourism (e.g. sustainable tourism). They believe that sustainable tourism delivers blended social, economic and environmental value, and that promotes vibrant flourishing communities. I couldn't agree more with them, so it was quite heartwarming and inspiring to encounter more peers sharing my visions and hopes for tourism studies.
Euro-TEFI 2017 conference took place in Alborg University, Copenhagen last August (20-22) with the aim of promoting knowledge co-creation. Therefore, different and important social events were promoted to boost interaction among academics but also with practitioners that besides presenting their ideas provided us (academics) with a real taste of what they're doing towards sustainability.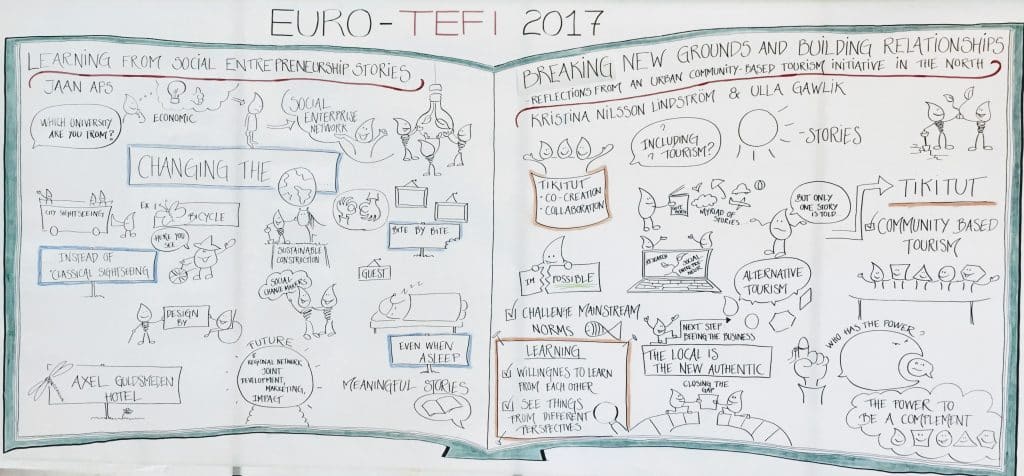 Street voices
For example, one of the practitioners – Gadens Stemmer – Street voices – presented their work in the conference. They provide alternative walking tours in Copenhagen that are guided by ex-drug addicts, ex-prostitutes, ex-homeless that told us strong and difficulty stories about their lives in the street. The presentation left me with mixed feelings and I, immediately, thought: "are we capitalizing others disgrace?"; "where lies the boundary between helping these people by giving them a 'conventional' job or exploiting their fragilities? I took it as a challenge and decided to do the trip anyway. We met our guide, Mia, in Vesterbro a gentrified neighborhood that is most known by its Meatpacking District. Nowadays, this neighborhood is considered one of Copenhagen's most popular places to go out (for locals and tourists). As you can imagine, it was a very heavy and difficult walk, many participants were in tears while hearing her tragic past of living in the streets being constantly raped and beaten. Was also difficult try to picture this in the streets of Vesterbro that currently it is so clean, well preserved with no signs of vandalism. In the end, we were very grateful for her sharing this sad reality with us, and I felt joy for her when she said: "you know, you think I give you much, but is the other way around, before I started this work I felt ashamed of myself, I couldn't cope with my past, but telling you my story it is a relieve for me, now I can see me in the mirror and accept me". This job helps her to live a "regular life" that she describes as waking up every morning and making coffee to start the day. Currently, she attends school, she works part-time as guide and has her own house and dog. She seemed happy and she is reconstructing her life! So, I don't know how to answer my initial questions, I just know that clearly is not the ideal situation but it seems to be helping this woman! After the trip, we had dinner, in the same district, prepared by another practitioner Rub&Stub. A social enterprise, that used to be a restaurant that bases its menu on surplus food, now they work mainly in pop-up food events and do workshops with schools focused on food waste. Our meal was delicious and almost all of the products used to cook it were surplus food. It as an amazing experience!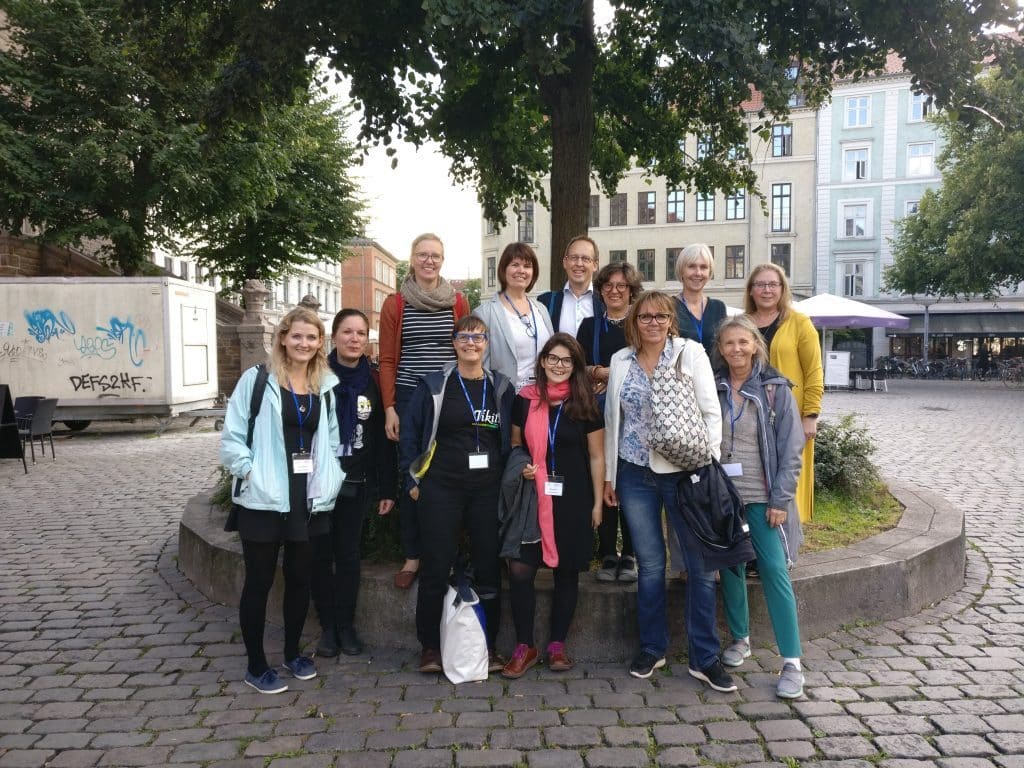 The Princess, The Dragon and the Land of Mass Tourism
Another highlight of Euro-TEFI conference was our visit to Cinamateket  where we watched and debated about the provocative documentary called Image Problem. If you did not watch it yet, I strongly recommend it. It is quite fun and yet reveals important realities that should be thought through. To whet your appetite, just watch the trailer on YouTube. Furthermore, I attended the presentation of one of the keynote speakers: Johan Edelheim from University of Stavanger. Johan challenged himself and us by literally following the conference topic and giving us an out-of-the-box presentation. That is, he brightly told us a story. A story called 'The Princess, the Dragon and the Magic Land of Tourism'the title is clearly a metaphor. So, the princess is the earth, the dragon is the climate change and magic land of tourism is the mass tourism. This was a brilliant and inspirational story about what single person can do to help to fight the dragon, even being a tourist or a traveler.
There were also lots of interesting panels. In fact, I was a panelist in the Lost in Translation panel in which we discussed and provided insights about how it is working in the English dominated publishing environment. It was agreed that challenges are little understood, and we have a long way to go to value the breadth of multilingual contribution.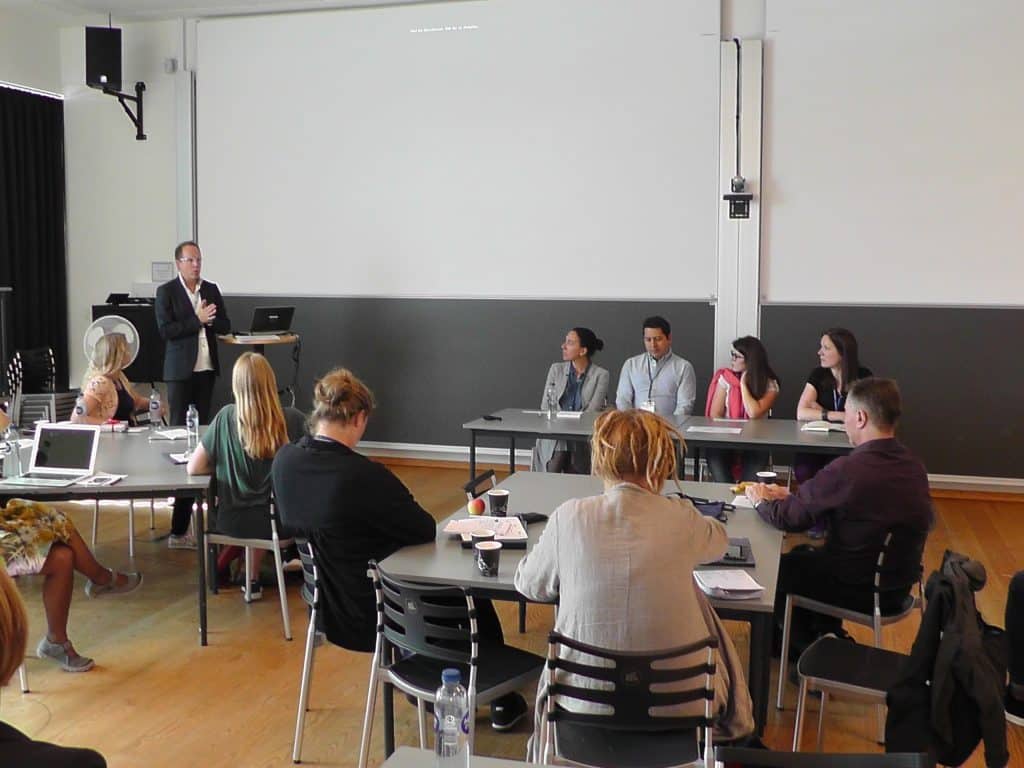 Last but not least, I presented my preliminary data with resource of the videos that I produced in Portugal and it was very powerful. A lot of peers commented how much they liked my presentation, one of them even asked if she can my videos in her class as a case study. Someone else remarked that we need more innovative methods in tourism and advise me to write a methodological paper about my visual methodology. For me, it was a very rewarding, intense and rich experience, and I had a great time in Copenhagen!