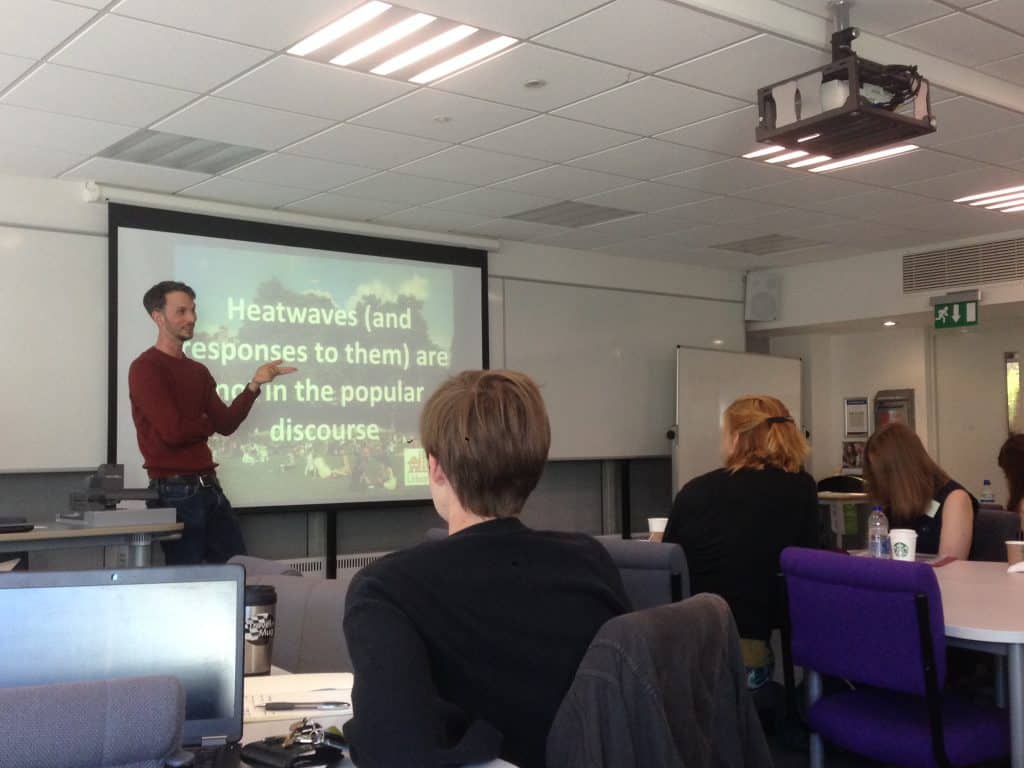 By Sara Grenni
On September 22nd – 23rd the third annual conference of the British Environmental Psychology Society took place at the University of Surrey's Environmental Psychology Research Centre. This year's edition focused on two key themes, both of great relevance for our SUSPLACE programme:
Environment, health and well-being: including areas such as environmental stress and restoration, place attachment and aesthetics.
Sustainability: including areas such as sustainable lifestyles, environmental attitudes and behaviour, and environmental risk.
It was particularly exciting for me to participate, as I graduated from the University of Surrey less than a year ago; coming back to Guildford felt a little bit like going back home, with the familiar walk to the university campus via the cathedral short-cut that all Surrey students know well.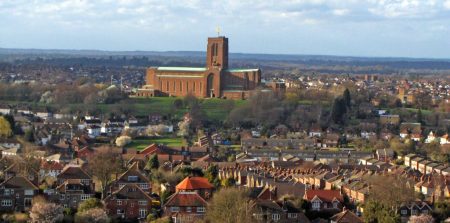 Emotional notes aside, the conference was also a great networking opportunity, as its relaxed atmosphere allowed easy chit-chats over coffee in between sessions and talks. This year's edition was attended by almost 60 people comprising a variety of researchers, from talented PhD students to established academics whose work is of great inspiration to me in these early days of my own research project. I even had a chance to meet my former lecturers, along with a few fellow Surrey Alumni. It was particularly inspiring to realise how all the people in the rooms, despite the most disparate topics of interest, shared the same passion for understanding the many ways people shape and are shaped by the environment they inhabit.
Prof. David Uzzell opened the conference with a keynote speech titled "Where is the environment in Environmental Psychology?". The talk addressed a series of key issues, from the lack of research that actually considers the physical aspects of the environment, to issues related to researching place in a global world, and its practical and ethical implication. He pointed out how, despite the current need for research to address global problems, the global south's perspective on environmental problems are still very much under-represented, and how this is linked to a failure to recognise the non-universal applicability of social scientific theories.
Of particular relevance to us SUSPLACE-ers, prof. Uzzell also addressed the issue of transdisciplinarity as a necessary mediation space, as the issues we study as researchers more often than not do not lie within traditional disciplinary boundaries.
Later in the day, it was particularly inspiring to have the chance to listen to Zenith Delabrida, a visiting scientist from the Federal University of Sergipe, Brasil, currently spending her sabbatical year at the EPRC. In the second keynote speech, she introduced us to the work done in her country, and the early steps for the creation of an established network for Latin American Environmental Psychology.
One of the things that personally drew me to SUSPLACE is how we closely work not only with academic institutions, but with non-academic and professional partners as well. For this reason, it was very interesting for me to hear Dr. Clare Twigger-Ross' perspective on "Environmental Psychology in Practice", in her keynote speech on the second day of the conference. Dr. Twigger-Ross has been working for a consultancy for the past 14 years, and she brought in a different perspective on the interaction between research and policy. Some food for thoughts, particularly regarding the different requirements that doing research for a client entails, and the necessity to communicate the findings in a way that is accessible to the practitioners or policy makers (which sometime require everything to be condensed in a half a page long report).
On top of getting inspiration from the many talks of the conference, I also had a chance to introduce the audience to SUSPLACE and to my own project – dealing with the role played by sense of place and values in motivating us to take on transformative actions towards sustainability in our everyday places. Having to present my work in 15 minutes forced me to reflect on the main points that are central to my approach, and allowed me to receive valuable feedback from the audience.
Overall, taking part to the BrEPS annual conference was a great experience. On top of practicing my public speaking, and listening to inspiring presentation, it made me feel part of a wider community of researchers who care about the same thing. We are very lucky to have access to such a community already within our SUSPLACE project, but it is nice to see what is out there, in the wider world!
Many thanks to the University of Surrey's EPRC, and particularly to Dr. Birgitta Gatersleben for hosting such a wonderful event.