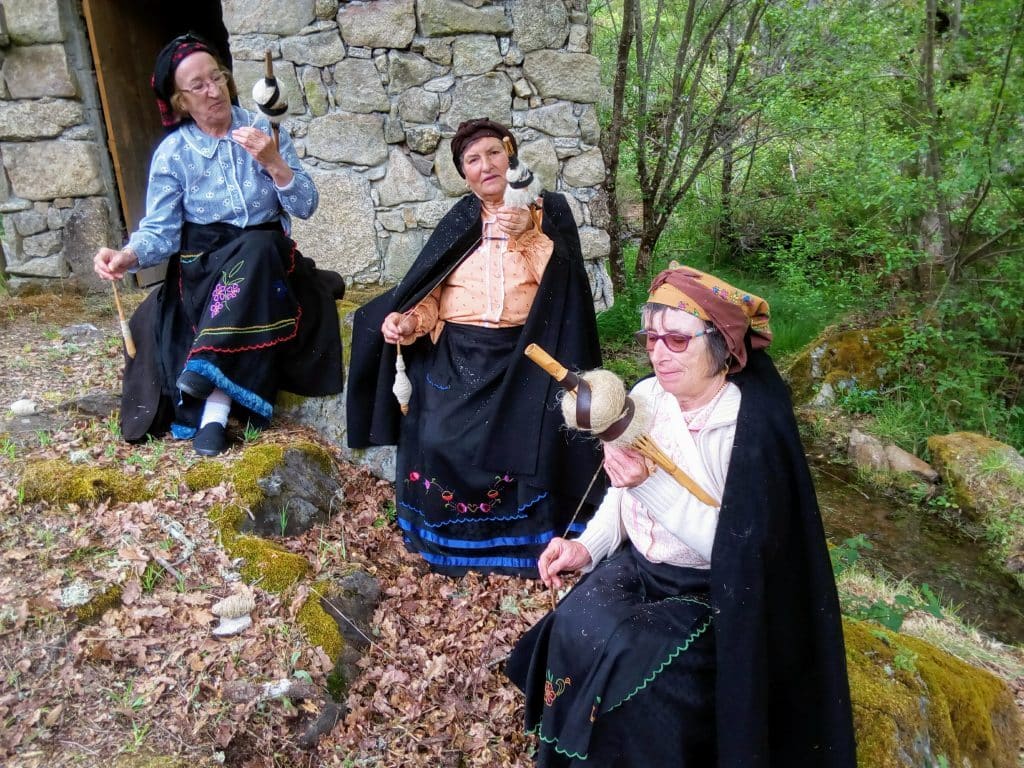 I want you to remember a time when you were on holidays in a rural area and came across a local shop selling traditional hand-made products. Have you ever asked how it was made?  Who made it and why it was made in this way? And what its impact on the community was? These are some questions that spurred interest in my research topic: revalorization and innovation of local resources in rural communities. As most rural traditional products are rooted in local culture, identity and values of the place of production, a potential strategy to foster place-shaping practices can be the revalorization and innovation of local resources while maintaining traditions and values.
As part of my research within SUSPLACE, I started to conduct field visits at the beginning of May. The context of the fieldwork unfolds in a rural village of about 230 inhabitants called Várzea de Calde, in the Viseu Municipality in the interior centre region of Portugal. It is a village characterized by an ageing population and emigration trends, as is most of the interior of the region, but also by a strong tradition related to linen. This is shown through the local museum "Casa de Lavoura / Oficina do Linho de Várzea de Calde" which has a permanent exhibition on traditional linen production, a cooperative of traditional producers (Cooperativa do Linho de Várzea de Calde) and a singing group (Grupo Etnográfico de Trajes e Cantares do Linho de Várzea) which perform songs related to linen.
Binaural-Nodar, a SUSPLACE partner, has been working in the area since 2015 within its project Viseu 2.0 conducting ethnographic research and collecting memories around local heritage, culture, traditions and practices. Through Luís Costa, Binaural's coordinator, I was introduced to key people and institutions in the area, notably José Fernandes, the President of the local Calde parish, Raquel Greenleaf, the museum manager and its friendly employees, Monica and Gloria. This has helped me establish some initial contacts with the linen cooperative, singing group, community members and with the Viseu Municipality councilor for Heritage, Tourism, Culture and Science. These are important key players within the development of the fieldwork as they play a vital role in the potential for place-shaping practices.
Within this initial time in the field, I found of utmost importance to establish a first contact with the community with humble spirit, a curious mind and an open heart. Only through mutual respect, a feeling of belonging and understanding of local values, pride and relations can a participatory project make sense. I have been warmly welcomed and invited to various events organized by the museum in cooperation with Binaural and the community through its local cultural association.
A very interesting activity that I would like to share was organized on May 6th by the local cultural association in cooperation with the museum and the local parish. It was a full day that hosted more than 100 people from nearby parishes. The day started with a morning hike through the walking route of the local riverside. The walk passed through three local mills, where in each the cooperative and singing group members sang songs related to linen and performed traditional production activities (very labour intensive) such as beating the flax straw (flax is the plant's woody fibre before processed into linen), scutching the flax  and spinning flax fibres. I was delighted to be able to see such processes done live, meet the women of the groups and introduce myself and the SUSPLACE project.
It was a very interesting moment to finally see some of the processes that I have only read about, to understand their attachment and pride in what they do and how important linen is for their identity and as display to visitors. The walk continued and ended with a guided visit to the museum and then a communal lunch at the local cultural association. The afternoon plan had various shows where the local signing group would perform, but I unfortunately was not able to attend. I thank everyone involved for inviting me and making me feel welcomed, it was a great inspiration and energizer! I am very happy to have chosen Várzea as my case study to analyse and explore the potential of revalorization and innovation of linen as their local resource for place-shaping practices!